Welcome to Awebpage.com ...
If you just started looking for a web designer in your local area or on a regional or national level, you are probably surprised to see that there are hundreds offering web design services. Their services can range from boilerplate websites that everyone has, to full multimedia e-commerce sites with streaming music and video. Your options are endless... but what you will need in particular is a website designer that can build a custom site that is eye catching graphically, is easily navigated for your customers to browse through, and can be done at a very reasonable cost. Awebpage can do this for one "fixed price".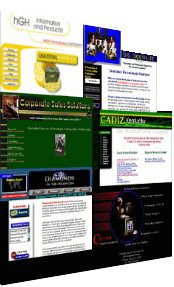 We keep it simple -Your website does not have to be entirely flash-based or overcrowded with information. If you Include too much textual information it will be boring and will overwhelm your visitors. The most effective website design addresses only the necessary information, and then provides links to contact and supplemental information. We use roll-over and drop down menus similar to the menu bar you see at the top of our site to "hide" more information.


We use Images - Today's online business owners and consumers are highly visual. Ideally, your product should be photographed by a professional and the images should be placed on your site for the visual appeal people are attracted to. And there should be correlating text that provides enough detail but does not over overwhelm your visitors. If you cannot have this done professionally there are many sites that offer royalty free images that might fit your needs. Awebpage can provide these.
It's important to remember that your website is a direct reflection of your company and product. If a potential customer is comparing your company to your competitor, they may go with the company with a more appealing website.
How to get started...

Answer a few questions about your business

Click Submit and you are DONE

In 3 to 4 days we will email you when your web page sample is ready

You are under NO obligation to accept it

If you like it... then just email us saying so and we move ahead

Go here to get started
This web page sample is unique to your particular business... we never use "templates" or canned graphics... all of our custom designed web page samples are original work.
Based on the information you provide to us we will lay out the design elements of what we think you are looking for and upload it to our server. Once that is done you will be able to access your web page via the Internet where you can view it in real time. This method will be used throughout the design phase so you can monitor the progress being made at any time. And if you like what we have done then we all work together to change, modify the design to your specific requirements.
If you would like to have us incorporate some of your own pictures or graphics you can email them to us. If you have seen a particular web site that has design elements you like and would like to see some of it in your own site then provide the web site address and we will emulate (not copy) what you are looking for. This is a no obligation offer to business and professionals in the U.S. and Canada... and you only pay our fixed cost fees when your site is completed.