Search, Buy, Register, a Domain Name
If your are just starting out you will need to search for and register a domain name before you can do business on the Internet. This is also the first step to be taken before a web site can be built for you so do this first.
The following steps will take you through the process of searching for the Domain Name you want to use and then how to buy and register it so it becomes your Domain Name.
The Registrar we recommend for this purpose is Network Solutions (NS) NS was the original registrar of internet domain names since the beginning of the Net and we highly recommend them. They are highly reliable and have a solid reputation in the industry.
Step 1 Click Here to access the Network Solutions web site to search and buy a domain name.
This screen will pop up. In the WHITE area type the domain name you would like to use for your site. Enter the name first then .com Don't forget the period before com.
After typing the name click the green button that shows "Search". You will have the opportunity of conducting more searches for another name later.

If the domain name you searched for is available you will see a .com box with a check mark. This means that a .com name is available for purchase and registration. You really want a .com domain name as this is the preferred choice of all online businesses.
Step 2 If the name you want is available click the green button that says "Add Domain to Order". If it is not available you can type more names below this area and search again.

Step 3 Check the box(s) next to the Domain Name(s) you want to use then click the green button that says "Yes, Add Domains to My Order".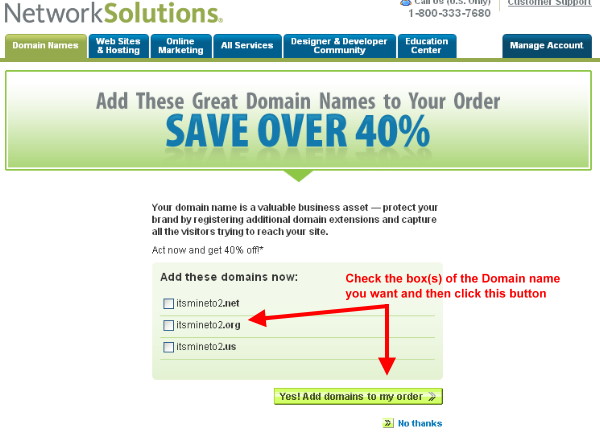 Step 4 The next screen will show a number of options for you to purchase but you can ignore all of this if you are not interested.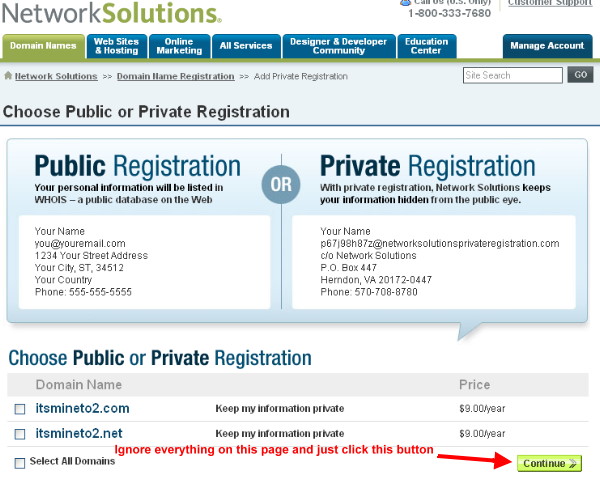 Step 5 The next screen will provide you with the option of buying Hosting. At some point you will need Hosting for your site to be seen on the Net so feel free to select a Hosting package that suits your requirements. You don't have to choose Hosting with NS, you can browse the Internet for other hosting companies, or we (Awebpage) can set up Hosting for you with our provider.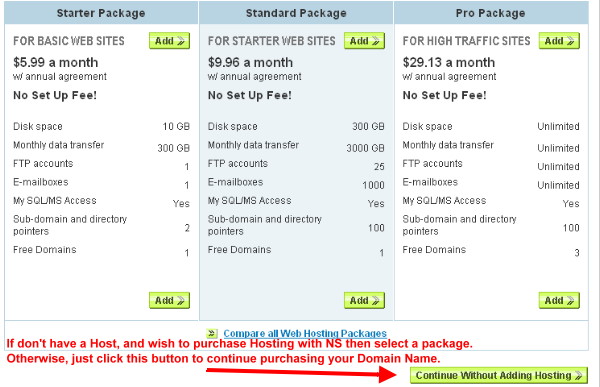 Step 6 The next page will also provide a number of options you can purchase if desired. If there is no interest then scroll to the bottom of this page and click the green button that says "Continue".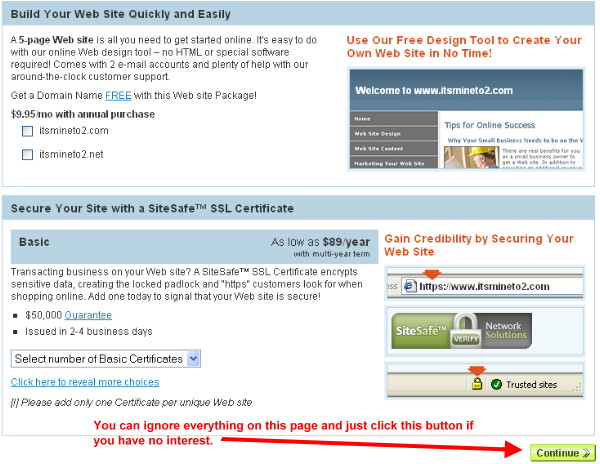 Final - Step 7 The next page will give you the option of choosing the number of years you want to register your domain name for. It ranges from 1 year to 100 years. Keep in mind that it is recommended that you choose a minimum of 2 years. This will insure that your domain name is yours to keep without having to worry about renewing it every year.
Their current price structure up to a 5 year registration is: